<![if !vml]>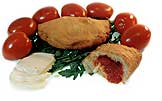 <![endif]>PANZEROTTI'S RECIPE
Panzerotti dough recipe is a family secret, jealously kept by Luigi, Giuseppina's son, together with Emanuela e Cristina, the grandaughters. The reason of success and longevity of the historical Luini activity is ascribing to the preservation of the bakery as a family business.
The most demanded panzerotto is, beyond all doubt, the classical one, stuffed with mozzarella cheese and tomato. Together with this, many others kind of panzerotti have been added afterwards, varying also according to the season: ham, pesto and small tomatoes, cottage cheese and spinaches, eggplant, etc.
<![if !vml]>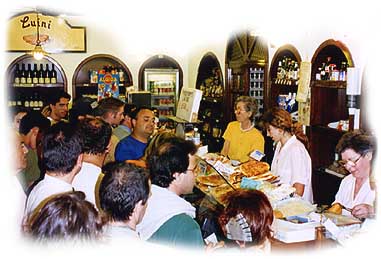 <![endif]> Tastiness of the panzerotti is also due to high quality and freshness of the ingredients and to the great care that Luini's dedicate in the homemade production, from rising of yeast to the frying. All panzerotti are strictly freshly baked and for this reason are always warm and steaming.
Panzerotti are normally fried, but is also possible to have them oven baked.
<![if !vml]>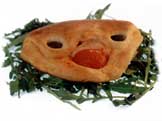 <![endif]>A worthy alternative to the panzerotto is the "focaccia pugliese": this particular kind of flat bread is very soft thanks to the dough with potato, finished on top with tasty small tomatoes produced in the south of Italy. Besides panzerotti, Luini is also specialized in other typical products from Puglia. A pastry that Luigi is glad to suggest is the panzerotto dolce (sweet panzerotto); its greedy stuffing of figs, nuts and cacao or wild berries is wrapped in a delicious shortcrust pastry and finished with a dusting of icing sugar. Keep talking about tradition, you can also find, all year round, the "carteddate", a typical Christmas pastry: a thin <![if !vml]>

<![endif]><![if !vml]>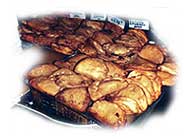 <![endif]>sheet of pastry round rolled up, dipped in honey and cooked wine.